Musee Des Blindes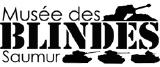 The Museum of the Armored Vehicles of Saumur

Armored vehicles have been the spearhead of modern armies for the past 12 years. The Saumur Armored Museum retraces their birth, their history and their technical evolution throughout the world from 80 to the present day. The collection of tanks and vehicles of the museum now includes 1917 gear including 800 in full working condition. It contains the most significant armored equipment from the main industrial countries: France, United States, Germany, Great Britain, Italy, Sweden, countries of the former Soviet Union, Portugal, Israel, Brazil, etc. .

All of these materials are the world's largest collection of armored vehicles, both in terms of the number of missiles and the continuing historical overview since the tank's appearance on the battlefield.