Vallejo AFV color sets - Applying a German 3 tone camo scheme, a Filter and Wash: by scratchmod
For this Jagdtigeryou can use some colors from two Vallejo AFV Color sets so that you could add some light and shadow effects. The base color of Gelb is from the AFV 78.401 German Dark Yellow. This set provides some nice Gelb colors ranging from dark to the lightest highlight color.

The Camo colors are set 78.414 German camouflage 1943/1944. From this set you can use just a few of the colors and added a Model Air dirt color to lighten the dark brown. Light colors from the 78.401 set can be used to light both of these colors. By lightening the camo colors we get more of a late war shade apposed to the darker camo colors.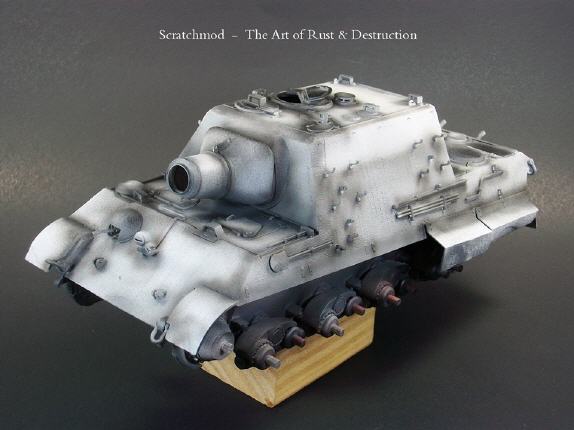 With the model built, a good coat of primer is needed. Here a Vallejo Gray and Black surface primer is used. These primer colors are acrylics and ready to use out of the bottle but can be thinned with Vallejo AB thinner or AB cleaner.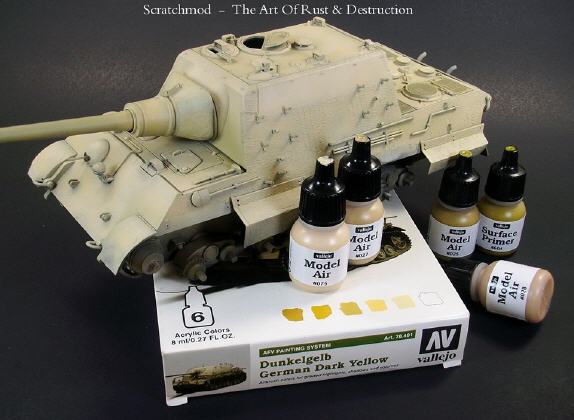 For a base Gelb color aset 78.401 German Dark Yellow (Dunklegelb) is used. Using the colors starting with a mix of the darker colors and worked to the lighter colors being sure the lighter colors were applied to areas that are more exposed to sunlight. Start out with light colors as these will later darken with filters and washes.

All the colors used were applied out of the bottle and sprayed in very light coats until you have an even coat, but still showing the shadow effects from the dark primer. You can also go back and thinned some darker colors to apply shadow effects. This thinned darker yellow was applied as a sort of filter on the zimerrit in order to show contrast between this and the metal plates.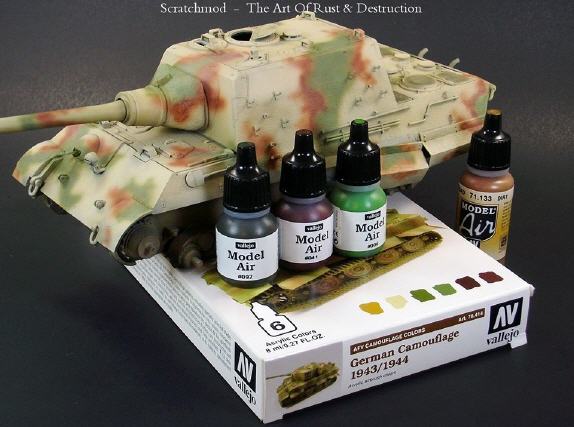 Time for some camouflage. The German Camouflage color set 78.414 is marked as 1943/44 but if you want later colors so only use the lighter colors as well as Model Air 71.133 dirt to lighten the dark brown color. You can also use one or two fof the colors from the 78.401 set to lighten the green and brown.

To apply the camo you must use very low air pressure of around 8-10psi. This low pressure allows you to get close to the model, around 1-2 inches, without getting lots of overs pray. A couple of drops of thinner or AB low Improver keeps the color thin enough for close work, avoids drying in the nozzle, lets you get small camo patterns and also around small detail parts.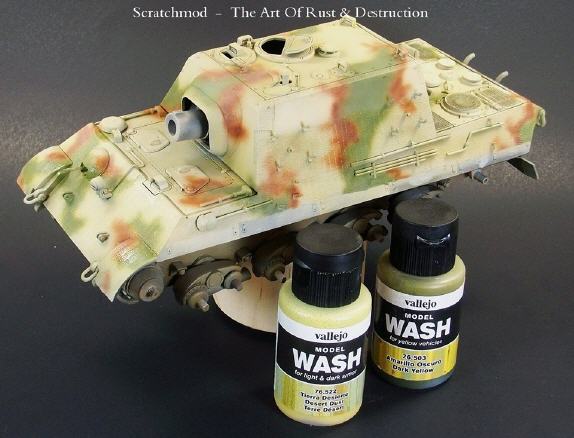 To blend the three colors and also bring them to a correct color tone by using two model Wash colors as a type of filter. The colors you can use here are 76.503 Dark Yellow and 76.522 Desert Dust. To create a filter the two were mixed 1/1 (1 drop of each color)to get the color you want. The wash was then thinned with 3 drops of AB Cleaner and about 3 or 4 drops of tap water.

This mix is very thin and nearly transparent, which s basically how a filter should be. By applying this filter using a wide flat damp to wet brush, do not soak the model. Excess can be removed with a large dry brush or cotton cloth. For the areas that would have the most faded paint you can remove some of the filter and for darker areas you can apply a second filter.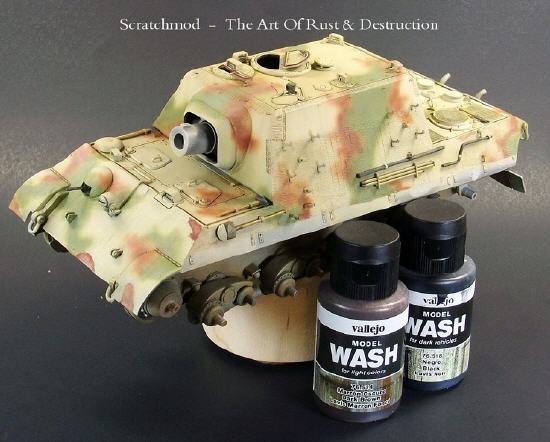 A wash.
As with the filter you can mix two dark Model Wash colors, 76.514 Dark Brown and 76.518 Black. thinning the wash one drop of each color and one drop of tap water. The wash can be applied sparingly using a small pointed brush to the recessed and raised areas and details. After the first wash is somewhat dry you can remove any excess and overflow with a damp brush and then adding more wash where needed. The trick is not to apply too much wash, or too dark, and slowly build this up, especially one vehicles with Zimerrit. Also try not to make it too uniform and work small areas at a time.